When you hear the phrase 'flower power', you probably think of the Swinging Sixties – and, chances are, when you hear the phrase 'floral carpets', you probably think the same. However, those of us who follow interior design trends know better. Floral carpets are no longer a thing of the past and things are coming up rosy for these blooming marvellous floor coverings.
A Brief History of Floral Carpets
Floral designs have existed in carpet weaving for aeons. In fact, the oldest known carpet in the world – the Pazyryk carpet, which was found perfectly preserved in a block of ice in Siberia – is thought to be of Armenian heritage and features floral motifs around its border.

Persian carpets have also drawn inspiration from the natural world for centuries; fifteenth-century herati designs feature floral motifs in their corners, medallion carpets are embellished with floral vines, and Kirman pictorial carpets often depict scenes from nature and mythical flora.
Floral regency carpets were also hugely popular in Victorian times, while the fleur-de-lis – a stylised lily – was favoured by European monarchs in all interior design, carpets included.
Fast forward to more modern times and Persian-inspired paisleys and flowers were adorning the carpets of our parents and grandparents in the late 60s and 70s. Characterised by their dense patterns and umber tones, these carpets could range from classic and traditional to bright and psychedelic.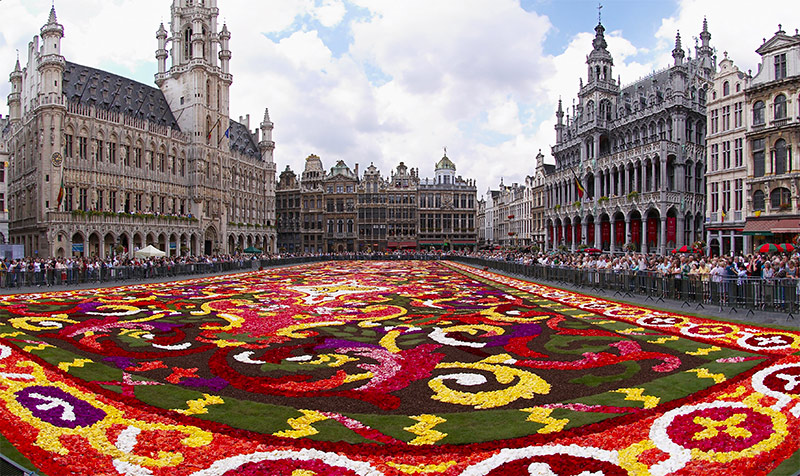 Historic Events & Displays
Of course, it's hard to beat the real thing. Real floral carpets have often drawn huge crowds as part of events and displays throughout history. Perhaps the most famous is the Brussels floral carpet. First appearing in 1971, this huge floral display has gone on to feature in the city's Grand-Place every two years since. Incorporating 1800m2 of begonias and 300 cut flowers per square metre, this 75m by 24m carpet takes 100 volunteers just four hours to assemble and the carpet's theme changes each time to reflect major events or celebrations.
Not to be outdone, the UK got its own floral carpet back in 2008 when Jo Vickers, Manchester Metropolitan senior lecturer in Fine Art, filled the city's Albert Square with a huge display as part of Manchester in Bloom. Measuring 900m2, the turf carpet was covered in 60,000 pink Anastasia chrysanthemums and cerise gerbera and took 60 volunteers two days to construct.  
How to Style a Floral Carpet
If you're feeling inspired by all this flower power and want to fill your home with your own design bouquet, there are plenty of ways you can style a patterned carpet in your home.
– Go all out – Floral carpets are a striking choice and can give a room a strong sense of design. Go for a bold and bright pattern to give your room a focal point that will immediately lift your interior design without too much effort.
– Keep it simple – That being said, you don't have to be bold if you don't want to. Simple, traditional floral designs in neutral shades can add eye-catching texture without being overwhelming in small spaces.
– Choose your era – Different types of floral carpets often come with very strong links to different eras; yellow, orange and brown tones will evoke the seventies, while royal blues or deep reds can seem very traditional and Victorian. This makes floral carpets a great way to lend a room a sense of retro style or vintage elegance. Just make sure that you match your furniture and accessories to the same era to cement the design choice.
– Let the carpet do the talking – To avoid a room becoming too busy-looking, keep everything else simple. Avoid other patterned furniture or wallpaper; instead, pick out colours from your floral carpet and choose furniture, wall coverings and accessories in those block shades to match without looking cluttered.
Donnelly Watson's design team can create a bespoke floral design just for you. Get in touch today to find out how we can transform your home.